biogs
EDge is the leading graduate company of contemporary dance, originally touring as 4D from almost 10 years ago. From the outset, the company has led the field in offering internationally renowned choreographers, presenting new work using professionally trained dancers on the cusp of their careers.
The company's 11 dancers are made of graduates from the world's top conservatoires, with performance experience of unrivaled standing. As an ensemble, their dynamism and command over any kind of space is one of EDge's most impressive performance characteristics.
EDge is led by Artistic Director Lauren Potter, one of the most highly sought after educators on the UK and International teaching circuit.
Lauren Potter (artistic director)
Lauren trained at London Contemporary Dance School and subsequently danced with London Contemporary Dance Theatre for eight years. She became a founder member of Siobhan Davies Dance Company in 1988. Since working as a freelance dancer and teacher she has been involved in a wide diversity of dance projects both staged and televised. Other choreographers with whom she has worked include Lloyd Newson, Yolande Snaith, Jonathan Lunn, Ashley Page and most recently Rosemary Butcher. She has taught extensively around the world and written on teaching and dancers development for UK publications.
Jeremy Nelson
Jeremy is an award-winning dancer of the Stephen Petronio Company of New York
On the 16th, 17th and 18th of June, EDge will be delivering two daily sessions of intensive dance workshops. The morning sessions, which will run from 9-12 am, are intended for professional dancers, whilst the afternoon sessions, between 4:30-7:30 pm, are intended for students. On the 20th of June, between 10-12 am, another workshop has been prepared for handicapped people. Because the seminars are free for the public and the availability extremely limited, place reservation is essential. Please download the letter of invitation (greek) for the workshops and the application form (english).
and has been choreographing since 1994, receiving a
John Simon Guggenheim Memorial Foundation Fellowship
for his work.
He has taught or presented work in over 30 countries.
For EDge, he has created an ensemble piece, using the entire company to create an inescapably exciting piece of performance.
Hanna Gillgren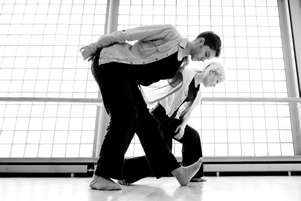 Originally from Sweden Hanna trained at London Contemporary Dance School 1991- 1994. As a performer she has worked with among others David Massingham, Bedlam Dance Company, Physical Recall, Istoc Kovac, Colin Poole, Artgenossen (Munich, Germany) and Cie Tandem/Michele Noiret (Brussels, Belgium).
Her choreographic work has been performed at venues around the UK and internationally such as The Biennale for Arts in Turin (Italy 2000), Monty, Antwerpen (Belgium 2003), Kanon Hallen Copenhagen (Denmark 2004), Gavalla Theatre, Zagreb (Croatia 2003), Theatre de Caen, Caen (France 1997), Dansens Hus, Stockholm (Sweden 2003) and Post Hof Teater in Linz (Austria 1997).
In 1997 Hanna was short listed for a resident choreographer position at Movement Research in New York by the Arts Council of Sweden and in 2001 she was short listed for a Jerwood Choreography Award.
Andreja Rauch
Andreja has been a dancer with the Charles Linehan Company amongst others over the last 10 years. In 2007, she affirmed her transition to choreography by being selected to present a piece at the international festival, Dance Umbrella, in London.
On describing Andreja, dance-writer Donald Hutera commented "in terms of performance, Rauch has been one of the best reasons to watch British dance over the last 5 years".
Her last major work Weavers won a special 'jury' award at a festival in Ljubljana in her native Slovenia.
performance
EDge '09 (19 and 20 June, duration: 90 minutes)
With dance that includes high energy, athletic movement, burning political issues and comedy, EDge's performance showcases some of the most exciting and critically acclaimed young choreographers, and the most promising from a new generation of contemporary dancers. A diverse selection of new work, specifically created for EDge, includes original full length works by Jeremy Nelson (dancer of the Stephen Petronio Company), H2 Dance's Hanna Gillgren, and Slovenian choreographer Andreja Rauch (formerly of Charles Linehan Company). EDge will also present a selection of shorter works by up-and-coming dance artists Jesús Rubio Gamo, Javiera Peón-Veiga, James Jackson and Maria Jardardottir.
company members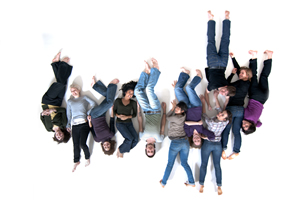 Choreography - Jeremy Nelson, Hanna Gilgren, Andreja Rauch, Jesus Rubio Gamo, Javiera Peón-Veiga, James Jackson and Maria Jardardottir
Performers - Ingrid Abeleda, Kirsty Arnold, Katherine Baldwin, Luke Birch, Philippa Collumbell, Adelle Collyer, Myrto Gkouzelou, Carlota Gonzalez Mantecon, Neil Hainsworth, Christina Kalliafa, Rebecca Stancliffe
Artistic Director - Lauren Potter
Rehearsal Assistant - Gareth Green
Production Manager and Technician - Helen Cain